Fishing Tackle Parts & Supplies
If you want to strengthen and lubricate your fishing reel or upgrade your gear ratio, check out our fishing reel parts and supplies below.
Parts & Supplies
• Abu Gear Ratio Upgrade
Pick up the pace by upgrading your reel from a 5.3:1 gear ratio to 6.3:1 retrieve. If you have a need for speed and like to cover a lot of water while throwing artificial baits, a higher retrieve may be what you need. By replacing your existing pinion and drive gear with genuine hi-speed precision cut gears, you'll see a noticeable difference.
Replacement gears: only $34.50
Replacement gears installed with reel service or repair: $30.50
• Dow Corning© 200 Pure Silicone Oil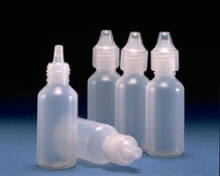 Dropper Bottles
Dow Corning© 200 Silicone oil is non-toxic, resists oxidation, has a high shear-ability without breakdown, high water repellency and is stable at both high and low temperatures.
Silicone oil provides outstanding lubrication properties to make your reel feel smoother and run faster and more quietly.
Price: $1.95 per 1/2 oz. dropper bottle, 100 cs (approximately. equivalent to 10wt.)
• Strengthen Your Shimano Spinning Reel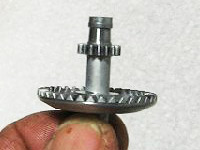 Example of wear caused by plastic bushing.
Some model reels have plastic (Duralon) drive gear bushings which can wear out the main drive gear shaft, in turn wearing out the oscillating gear. This is usually noticed by excess noise, wobble in the handle, binding, or gear slippage. The solution is to replace the original drive gear bushing with a bearing and then shim it to the proper fit. This results in a longer lasting and much stronger reel that can handle the pressure of an active fisherman. Some of the models that have the Duralon bushing are CX, FX, IX, Sahara, Sedona, Slade, Sonora, Spheros, Stradic, Sustain, and Symetre. Not all sizes within a reel family will need the upgrade. Consult your reel schematic or contact me to find out if you can benefit from this upgrade. The cost to upgrade is very inexpensive and is well worth the money.
The picture shown here is from a Sedona model SE-4000FB. You can clearly see the wear caused by the plastic bushing on the gear shaft. This particular reel required both the main drive gear and oscillating gear to be replaced.
Cost for repair and upgrade: $12.00
• Curt 13019 Class 3 Receiver Kit
This is a trailer hitch for small vehicles. It is new and unused.
Price: $75.00 (regular price $130 plus).